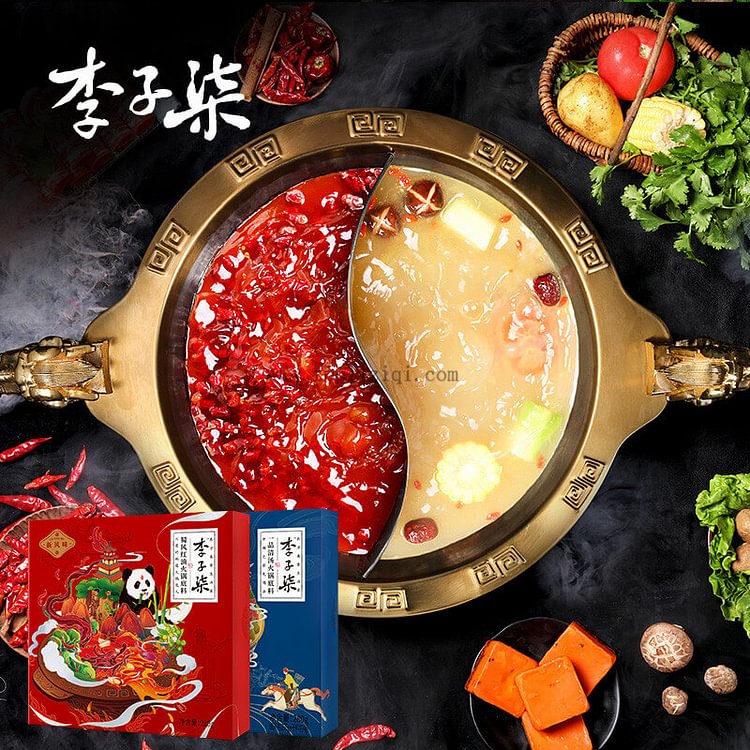 Old Sichuan authentic recipe
Authentic Sichuan hot pot style
Spicy and mellow
Spicy mouth but not spicy heart, Sichuan characteristics
Long-cooked and not muddy
Artisanal technique, clear red oil


Based on the Manchu recipe
Delicious broth with a mellow taste
Fresh soup base that you can drink
Chicken oil simmering, pork bone broth base
Long-lasting soup
Special bamboo shoots and mushrooms with dry ingredients

When we get together, let's have a hot pot
When we get together with friends, we always want to eat hot pot, and it's nice to have a chat with friends over a variety of dishes.
It's nice to chat together.
But it takes too much time to make the base.
I don't have time to make it during the day.
So I thought I'd make one that's not too much work, so I can eat it whenever I want.
Considering the fact that people have different preferences.
I've prepared a full range of spicy and clear soup
You can choose for yourselves!

A spicy and fresh north and south suitable
Southern style Sichuan butter pot base is spicy and powerful!
Northern school delicious broth pot base, delicate and
fresh aroma!
Two flavors, there is always one you like!

Butter simmered mellow and long
Red-hot, authentic Sichuan flavor
Use of genuine butter
Seals in all the red and rich soup brine
Mellow and flavorful, but not greasy!

Carefully simmered for a long time, not muddy soup
The artisan way in spicy pot
After a long time of slow simmering and blending
The aroma of the spices and the oil blend together
Long-cooked soup is not muddy
Mellow, spicy and delicious soup
The spicy soup is accompanied by the ingredients in your mouth, and has a long lasting taste!

The authentic Sichuan taste of fine peaches and good ingredients
Specially added vine pepper and onion, simmered pepper aroma
Rich and fresh Pixian bean paste
And then add a variety of aromatic and spicy auxiliary ingredients
Multi-layered taste, delicate and long!


Extra bamboo shoots and mushrooms for extra freshness
The more you shabu-shabu, the more flavorful it becomes
Made with high quality bamboo shoots, mushrooms and dahurian dahurica for freshness and flavor
Adding to the soup
Adding freshness to the soup
Add coix seeds, lotus seeds, red dates and wolfberries from the dry ingredients packet
No need for dipping sauce, it tastes good too!

Refreshing and tasty
The human deliciousness is "clear soup
Chicken oil bone broth with shiitake mushrooms and bamboo shoots
A new fusion based on the Manchu recipe
Warm yellow soup brine with a pot of vegetables
Fresh and oily, it tastes good!
Hot pot base product information

Product name: Shu Feng Red Oil Hot Pot Base
Specification: 280g/box
Â- Shelf life: 12 months (at room temperature)
Origin: Meishan City, Sichuan Province
Ingredients: edible butter, vegetable oil, bean paste (chili, broad beans, water, edible salt, wheat flour, potassium sorbate), monosodium glutamate, chicken seasoning, chili peppers, onions, scallions, edible salt, sugar, edible flavoring spices, garlic, tempeh, mash, ginger, rock sugar, white wine, spices, yeast extract, paprika, disodium 5'-flavoring nucleotide, potassium sorbate
Allergens: This product contains wheat products, soybean products
Shipping & Delivery
Please Read:

Notification Of Logistics Updates During Coronavirus COVID-19 Outbreak

-----------------------------------------

With customers all around the world, we are happy to send our products to anywhere that has a letterbox.

However, customs agencies in some countries have stricter checks on liquid products. If some areas cannot be shipped, we will inform you in advance and give you a refund (Refer to the refund policy).

Order Conditions Shipping Time Fee
Standard Shipping (5-15 Business Days) FREE
Faster Shipping (Only United States, United Kingdom, Australia, Canada, New Zealand, Italy, France, Germany) US $29.99

Processing Time
Processing time is different from shipping time. Please allow 1-3 working days for processing. This is an estimated number and does not include weekends or holidays.

Processing time is not the same as the delivery time. Excludes holidays/weekends.

Following the processing of your order, you will receive an email notification of these details, followed by your tracking details for shipments.

Processing time may be delayed if your shipping address is questionable and the order is flagged as a risk (we use this additional time to help ensure the security of your credit information). We may require proof of identification for the billing information received.

Tracking
It is best to create a customer profile to keep track of your order.

Parcel Tracking Site: https://www.17track.net/en. (It usually takes 3 - 6 days to track the information before uploading to the internet.)

When Will My Order Ship?
Orders that are placed by the consumer will ship the same day, Monday through Friday, as long as they are received by 2 pm EST on that working day. Please note that shipping time may be affected by inclement weather.

Taxes and Duties
Most countries do not need to pay taxes.

Your order may be subject to customs or import duties which are charged once the parcel reaches its destination country. Legally these charges must be paid by the recipient of the parcel. Unfortunately we have no control over these charges and cannot tell you what the cost would be, as customs policies and import duties vary widely from country to country.

Customs duty is charged as a percentage of the total value of the goods. The duty rate percentage depends on the country the package is being sent to, but on average is between 5% and 9%. We are afraid we have no control over the charges which is why we cannot include them in the cost of the item, or within the postage costs. We understand this can be frustrating so if you have any questions please do contact us at support@topliziqi.com.
The Li Ziqi flagship store is an official website flagship store operated or authorized by the brand's official company, and all products are guaranteed to be genuine and free of fakes.

The fashion of traditional culture and the globalization of oriental cuisine are the original intention of the brand and the vision to strive for it.
Here are what our customers say.
Wow you reached the bottom
Most liked
Highest ratings
Lowest ratings
The review would not show in product details on storefront since it does not support to.